Project Location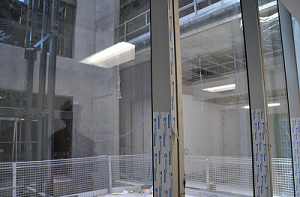 Camperdown (suburb of Sydney), NSW.
Application
60 x Switchglass™ panels (total of 135.41m2) were provided for the Intensive Care Unit of Chris O'Brien Lifehouse Cancer Centre in the Royal Prince Alfred Hospital Complex (www.mylifehouse.org.au/). The vision for the construction of the new Lifehouse Project was 'to create a new model of health care delivery in Australia' and for it to be 'a state-of-the-art centre of excellence'.
Project Description
Our Switchglass™ panels were installed throughout the Intensive Care Unit. The privacy glass panels provide controlled and clinically appropriate privacy and transparency for both patients and their carers.
The Switchglass™ panels were manufactured and freighted to the project location where they were installed by AGP Pty Ltd, the local glazing contractor. The wiring installation was overseen by an on-site Electrical Engineer to ensure conformance with Australian/New Zealand Standard for Wiring Rules (AS/NZS 3000:2007).
Team
Glass Manufacturer:  Switchglass
Glass Installation:  AGP Pty Ltd
Project Manager:  Capital Insight
Building Construction:  Brookfield Multiplex