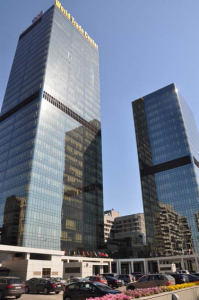 Project Overview
One of the most prestigious Moscow hotels, Crowne Plaza, is implementingthe high end technology in glass, to create the elegant and modern environment for its VIP clients.
The installation of the most advanced and largest switchable privacy glass on the market, Polyvision™ Privacy Glass, in 70 rooms, has changed hotel rooms into high tech space for modern businessman.
Project Description
Privacy at the flick of a switch:
The client wanted to achieve a very elegant and minimalistic effect in the VIP rooms and at the same time wanted to show very modern and high tech solutions. Working with a client's architect Shtiever proposed an installation of privacy glass panels. Polyvision™ Privacy Glass, was an obvious choice for its the technical features.
The trademark protected glass cleverly incorporates a PDLC film encapsulated between 2 or more glass sheets. Using a minute electrical current, dealership staff can immediately switch the glass from clear to private (opaque) and vice versa. When the electrical supply is switched on, liquid crystal molecules align allowing incidental light to pass through, making the glass optically clear.
Polyvision™ Privacy Glass panels were carefully installed in all VIP rooms. All VIP customers can enjoy big and open space of their rooms. They can watch TV when having a bath, but when they need to have some privacy, at the flick of a switch, the Polyvision™ Privacy Glass panels give them exactly what is required.
It is very important that all panels have the very minimalistic design and have created the elegant rooms with a lot of open space that can be clearly changed into private one. Shtiever used the best materials, including TPU interlayers and the Dorma frame system, to laminate 11 mm thick panels and achieve the best quality for the most demanding clients of the hotel.
Given the striking effect of the tinted glass, it has also been used to separate the showroom from the office area, with a 15mm clear version of the glass being used for the showroom windows.
Care in design and manufacturing
Shtiever is the most experienced company that introduced privacy glass panels to the architectural glass market in Russia. Their expertise in two key areas of manufacturing privacy panels: laminating and electronics, allows to produce the highest quality privacy glass in Russia.
Shtiever has been a partner of Polytron, the Polyvision™ Privacy film manufacturer, for years and has met all high level requirements for regional agent and Polyvision™ Privacy Glass manufacturers.
With all the necessary third-party certification in place, everyone within the supply chain of the glass is protected, and most importantly, the client can feel safe in the knowledge that the product will perform.
Team
Glass manufacturer: Shtiever, Moscow Russia
Architect: Andrey Korablev, Moscow, Russia
Project Manager: Boris Smolnikov (Shtiever)