Project Location
Gateway Shopping Centre, Perth, Western Australia.
Application
Skylight Glass for atrium in Gateway Shopping Centre.
Project Description
This project involved the laminating of 13 large glass panels. The flat edges of the glass panes were routinely polished and ground prior to laminating, then washed and dried before being lined up in our clean room for layering.
The completed 13 laminated panels comprised 6mm toughened green glass (Evergreen) and 10mm clear glass over a PVB interlayer giving a total thickness of 17.52mm. These hefty panels were pre-cut to various sizes, mostly trapezoid in shape, and one was an exceptionally large 1815mm x 4469mm.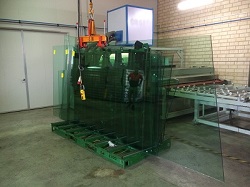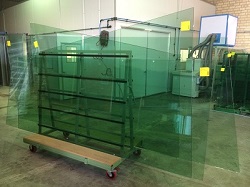 The work was carried out with precision and expertise by our laminating crew and the product subsequently dispatched to our client on schedule.


Team
Glass Lamination:  Custom Glass Products
Project Management:  Viridian / CSR