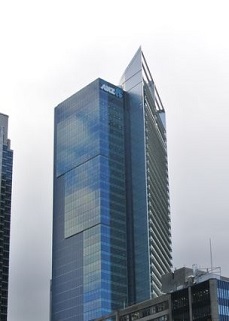 Project Location
40th Floor, ANZ Bank Building, Sydney NSW.
Application
Sliding and stackable double glazed switchable privacy glass panels divide the company's operations cum meeting room from a common area of this 40th floor office and afford both privacy and acoustic resistance.
Project Description
This Operable Wall System was constructed from toughened Switchglass™ privacy glass panels within fully-framed double glazed units.
Reduced Voltage: Operable switchable privacy glass walls of this size and reach require a special, reduced voltage for operation in order to comply with the Australian/New Zealand Standard for Wiring Rules (AS/NZS 3000:2007). For this we supplied a series of adaptors (step-down transformers) with an output of under 50V AC and 1500mA.
Acoustic Resistance: The Switchglass™ panels were incorporated into double glazed units of 100mm thickness; one side being switchable privacy glass, the other side normal glass. In this manner they afford excellent acoustic resistance with a very high rating while providing a very robust product. This is the first acoustically resistant, glass operable wall system built in Australia.
Switchglass™ Hinge System: A proprietary Switchglass connecting hinge system was used. This system is designed specifically for either stackable or sliding electric operable walls and enables an uninterrupted flow of electricity when the doors meet on closing, but disconnects the current when the panels are moved apart.
Team
Glass Manufacturer:  Switchglass
Glass Installation:  Bildspec Distributors Pty Ltd
Project Management:  Intermain Pty Ltd
Electrical Installation:  Stallion Electronic Security Pty