Illuminating Uses Of Glass.
The word 'Ceramic' derives from the Greek word keramikos, from keramos 'pottery'.
The derivation of the word 'Glass' is a bit more diverse, but here goes – this from Douglas Harper's Online Etymology Dictionary: Old English glæs "glass, a glass vessel," from West Germanic *glasam (cf. Old Saxon glas, Middle Dutch and Dutch glas, German Glas, Old Norse gler "glass, looking glass," Danish glar), from Proto-Indo-European *ghel- "to shine, glitter" (cf. Latin glaber "smooth, bald," Old Church Slavonic gladuku, Lithuanian glodus "smooth"), with derivatives referring to colors and bright materials, a word that is the root of widespread words for gray, blue, green, and yellow (cf. Old English glær "amber," Latin glaesum "amber," Old Irish glass "green, blue, gray," Welsh glas "blue;" see Chloe).  Sense of "drinking glass" is early 13c.
There, I feel much better now. To continue:
Glass-ceramics (also known as vitrocerams, pyrocerams, vitrocerâmicos, vitroceramiques and sittals) are fine-grained polycrystalline materials formed when glasses of suitable compositions are heat treated and thus undergo controlled crystallisation to the lower energy, crystalline state.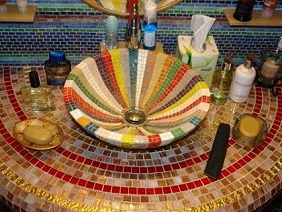 They always contain a residual glassy phase and one or more embedded crystalline phases. The crystallinity varies between 0.5 and 99.5 percent, most frequently between 30 and 70 percent. That should all be crystal clear now. Right?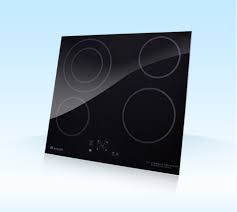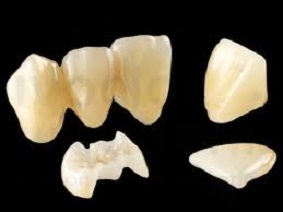 Controlled ceramisation yields an array of materials with interesting, sometimes unusual but certainly useful, combinations of properties. Ceramic glass has applications in things as diverse as oven cook tops and teeth, and small ceramic glass tiles are often used to stunning effect in mosaic design applications, or wall-tiles.
Shine on, I say.
Talk to us about ceramic glass products and designs.