Coloured Switchable Privacy Glass
Let there be light!
Let there be colour!
The choice is yours with Switchglass™ ColourTint.
Muted translucent shades of green or yellow, rose tint or opalescent blue that turn to their more solid opaque green, yellow, red or blue when you switch them 'off'.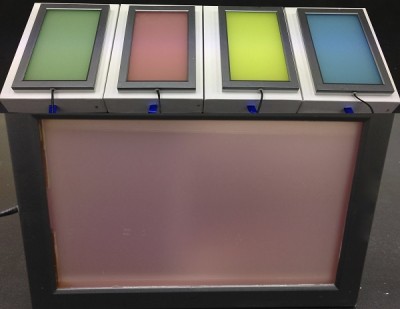 Switchglass™ ColourTint is a range of coloured switchable privacy glass that will enable your designer or architect to compliment your interior colour scheme.
The Switchglass™ ColourTint range also includes classic "grey mist" – for those wanting a darker shade of grey than Switchglass™ Classic (opaque white); this was used by one of our clients in his luxury motor yacht.
Of course, given artistic license one could even mix and match Switchglass™ ColourTint to create a very colourful, and innovative wall.
Switchglass™ may also be enhanced even further by the inclusion of colour film (or fritted glass) during the manufacturing process.
Read more about SwitchGlass, a unique privacy glass.