Clear Glass, Active Glass, Reflective Glass
"On a clear day you can see forever." Well, given that your vision is 20/20 and that the glass is clean, that could be true of the view through your window. But it has not always been thus. From mankind's early discovery of this translucent-yet-solid substance formed from a melting of silica-sand or ground quartz pebbles and an alkali, there has been an on-going effort to better its clarity – and it can be said that today we have reached that goal with the development of Low Iron glass. But now that we have achieved this, where to from here?
Clear Touch Switch Glass
For many individuals, glass has now become a channel to an interactive experience, a multi-purpose interface on which can be displayed images or information. The interactivity is achieved largely now through 'touch screen' technology which, though it certainly looks 'futuristic' in some of the household applications which Corning Glass shows on their video clips, is currently used by most of us on our mobile phones, laptops, notebooks or at the retail counter. Is this then, the future of glass?
Active Glass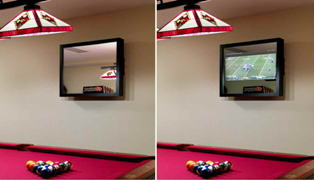 This catch-all heading covers interesting products such as Switchable Privacy Glass, but also newer developments in glazing such as heated window glass (for cold climates), and television displays and video screens that when turned off, because of their highly reflective coating, reflect a room back to the viewer like any other mirror – when switched on they revert to a high-performing television display.
Through The Looking Glass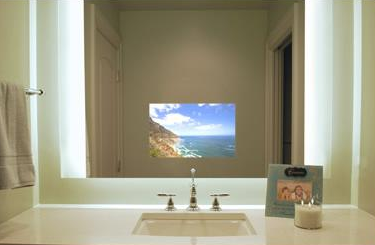 Another exciting new architectural glass development comes from Séura Inc., USA. They have integrated the television into a larger mirror so that the viewer can utilize both the reflective and display substrates at once.
The company specialises in reflective glass that hides, displays and accentuates TVs. Séura representatives say their Enhanced Series Vanishing TV Mirrors use specially formulated glass coatings designed to deliver a "flawless, 100 percent, colour-accurate reflection."
And what about a 'blinds' app that closes virtual blinds within your window with the swipe of a finger? Futuristic? This has been around since 2012. And there are more developments underway. "We have the technology!" The market, however, always lags a little behind. That's natural.